Our goal is to help consumers find the best credit card for their needs. With so many cards offering points, miles and other perks to choose from comparing cards can be very difficult. The best credit cards reward program will also depend upon your personal or business spending habits. In order help navigate this complex market, our team has researched over 100 cards in detail, and selected the best rewards credit cards that Singapore has to offer. 
Our Picks For the Best Rewards Credit Cards in 2017
To help you out we've compiled our list of the best rewards cards of 2017. The following cards, in our opinion, represent the best deals currently available for people in Singapore. By applying each card's unique set of rewards programs to an estimate this monthly spend, we can estimate the total dollar value of each card's rewards over 2 years. Below, we feature the best cashback rewards credit cards and the best air miles credit cards in Singapore.
| Rewards Cards | Annual Fee | *2-Year Dollar Value |
| --- | --- | --- |
| UOB One Card | S$128.4 | S$2,322 |
| HSBC Advance Visa Platnium Card | S$0.0 | S$2,174 |
| Citibank Cashback Visa Card | S$192.6 | S$1,748 |
| UOB PRVI Miles American Express Card | S$256.8 | S$1,994 |
| OCBC 365 Card | S$160.5 | S$1,970 |
| Citibank PremierMiles Visa Card | S$192.6 | S$1,950 |
Best No-Fee Cashback Rewards Credut Card: OCBC 365 Credit Card
If you want to avoid POSB Everyday Card's annual fee, OCBC 365 Credit Card could be an excellent alternative. Just like POSB Everyday card, OCBC 365 card is qutie ideal for daily use because it covers a wide variety of reward categories. For instance, OCBC 365 provides 6% rebate on dining, 22% on petrol, and 3% on groceries and monthly bill.
While the rewards rates are a bit lower than those of POSB Everydeay card, OCBC is much cheaper to use because its annual fee is easily waived. First two years of fees are automatically wavied, and subsequent years are waived as long as you maintain an annual spend of only S$5,000 on the card. In summary, OCBC 365 presents a cheap and convenient way of earning rewards on daily necessities of any average person or family.
Pros of OCBC 365 Card
Annual fee: S$160.5, but waived for 2 years and subsequently waived for annual spend of only S$5,000
A well rounded mix of high rebates on essential categories for families including:
Up to 6% on dining
3% on online shopping
Up to 22.2% on petrol
3% on groceries
3% on recurring utility bills.
Relatively high monthly cap on cashback of S$80
Low minimum monthly spend of S$600 to enjoy full benefits
Cons of OCBC 365 Card
Rebates for major categories like Grocery or Dining lag behind peers
Relatively high annual fee of S$192.6 if you don't get the waiver
Best Cashback Rewards Credit Card for Every Meal: Citi Cashback Credit Card
The Citi Cashback Credit Card is one of the best cash rebate credit cards in Singapore because it has one of the best set of rewards for food. For instance, this is the only cashback card in Singapore that offers 8% cash rebate on both dining and grocery. For people who like to eat out at restaurants just as much as they like cooking at home, Citi Cashback is a supserb way of getting great savings on all of their meals.
Though its cashback program does not include benefits for entertainment, shopping and utility expenses, Citi Cashback card still provides 21% off on petrol and S$190 of welcome gift. It also has a relatively high cap on monthly cashback of S$75, so you can earn up to S$900 of savings every year on food. If you are looking for a way to save money on all your meals in and out of home, Citi Cashback card could be an excellent choice for you.
Pros of Citi Cashback Card
8% cashback on grocery & dining
Up to 21% off on petrol
Relatively high cashback cap of S$75 a month
S$120 cash rebate welcome gift
Cons of Citi Cashback Card
High annual fee of S$192.6, first year waived
Relatively high monthly minimum spend of $888 to qualify for maximum benefits
All other retail expenditures not previously mentioned only receive 0.25% of rebate
Best Flat Rate Cashback Rewards Credit Card: UOB One Card
Some people prefer flat rate cashback cards because they reduce the complexity of managing multiple rewards cards. For those people, we highly recommend UOB One Card. If you can spend around S$2,000, S$1,000, or S$500 consistently each month, UOB One Card can earn up to 5% of rebate for a maximum of S$1,200 cashback per year. While it takes a bit of work to closely monitor your expense level to meet these optimal spending level, UOB One Card stands out as one of the most highly rewarding credit cards in the country.
UOB One is most suitable for people who have high visibility on their monthly expenses and can optimize their balance on the card at S$2,000 a month. Ideal users would include families with large recurring or fixed expenditures. It also comes with a 24% discount on petrol and a low annual fee of S$128.4 that is waived for the first year. 
Pros of UOB One Card
Flat rate cashback of up to 5%, one of the highest in the market
Up to 24% discount on petrol at SPC and Caltex
Extra interest income of up to 3.33% on your UOB One Savings account
High monthly cap on cashback at S$100
Cons of UOB One Card
High monthly spending requirement of up to S2,000 to qualify for high rewards
Rather complicated to use to maximize rebate
Best No-Fee Air Miles Rewards Credit Card: HSBC Advance Visa Platinum Card
HSBC Advance visa Platinum Card is an extremely generous miles award card that focuses on some of the highest expenditure areas of an average consumer. Typically, an average consumer in Singpoare spends about S$2,000 per month, of which one third goes to dining, entertainment and shopping. While its flat rate award is relatively weak at 0.4 miles per S$1 spent, HSBC Advance card grants 4 miles for every dollar spent on these three categories. It also offers a 16% discount on petrol at Caltex and Shell stations. According to our calculation, these benefits result in over S$2,000 of savings over a 2-year period.
HSBC Advance Visa Platinum Card is also the only card we have featured in Best Rewards Card 2017 that features zero annual fee. For this reason, we think HSBC Advance could be an excellent choice for young people who might be more conscious about paying annual fees but have an active shopping habit or social life.
Pros of HSBC Advance Visa Platinum Card
No annual fee
4 miles on online spend (shopping and travel bookings), dining, and entertainment
16% off on petrol at Caltex & Shell
S$85 HSBC's All Days Movie Card if you spend S$100 in the first month, S$950 Samsonite luggage if you spend S$500 per month in the first 3 months
Cons of HSBC Advance Visa Platinum Card
Very low flat award rate of 0.4 miles per S$1 spend on everything outside of online, dining and entertainment
Not many other perks to speak of (i.e. lounge access, airport limousine service, etc.)
Best Air Miles Rewards Credit Card for Average Consumer: Citi PremierMiles Visa Card
Citi PremierMiles Visa Card is our favorite travel cards for the average consumer. First, it has a very decent set of mile awards that includes 1.2 miles for S$ spent locally and 2 miles for S$1 spent overseas. The highlight of the card, in our opinion, is its bonus miles. When you pay the annual fee of S$192.6 and spend S$10,000 in the first 3 months, you can receive an award of up to 40,000 bonus miles. Then, you can earn 10,000 miles every year when you renew.
Citi PremierMiles card can also help you save money on petrol with its 14% discounts at Shell and Esso stations. Combining mile value and savings petrol, in our view, can add up to around S$2,000 of rewards over a 2 year period.* 
Pros of Citi Premier Miles
1.2 miles for S$1 spent locally, 2 miles for S$1 spent overseas
10x miles for online travel bookings (promotion)
Flexible convertibility to over 60 airlines & 8,000 hotel properties, including Star Alliance, Skyteam, IHG rewards and Hilton HHonors points
Up to 30,000 bonus miles (15,000 when you apply and spend within first 3 months + 15,000 miles when you spend a total of $10,000 within first 3 months) 
10,000 miles when you pay the annual fee and renew
14% off petrol spend at Shell & Esso
Cons of Citi Premier Miles
S$192.6 of annual fee, no waiver
S$25 administration fee for each Frequent Flyers Programme redemption
High Mile Rewards Credit Card: UOB PRVI Miles American Express Credit Card
The UOB PRVI Miles American Express Credit Card provides mile awards equivalent to those of high-end luxury cards without the luxury fee. It offers one of the highest flat-rate mile awards in the country at 1.4 miles per S$1 spent locally and 2.4 miles per S$1 spent overseas, all while charging an annual fee of just S$256.80, which is waived for the first year; other luxury cards charge S$500 or more. Not only that, UOB PRVI Miles card provides 20,000 loyalty miles every year if you can spend at least S$50,000 on the card annually.
However, the savings do come at a price, with the card offering fewer perks compared to more expensive options. This card works well for people willing to forgo perks like free lounge access or hotel rewards in order to build up high mileage and dodge high fees.
Pros of UOB PRVI Miles Card
One of the highest awards rates, 1.4 miles for S$1 spent locally, 2.4 miles for S$1 spent overseas, 6miles on S$1 spent on travel
20,000 loyalty miles every year with at least S$50,000 of spend on the card
Low annual fee compared to other high mile cards (S$256.8, waived 1st year)
Cons of UOB PRVI Miles Card
Points expire in 2 years
No complimentary lounge access (you do get 30% discount on lounge fees)
Limited perks like complimentary nights at a limited hotel chains
Best Rewards Credit Cards by Dollar Value
Below, we prepared a visual illustration of dollar value of the best rewards credit cards in Singapore. Generally, dollar values* range from S$1,800 to S$2,900 over 2 years, representing a rewards rate of 3.75% to over 6%. Remember, this is an approximate value based on an estimate of the average  consumer's spending habits, and may differ in actual result depending on your unique set of expenditures.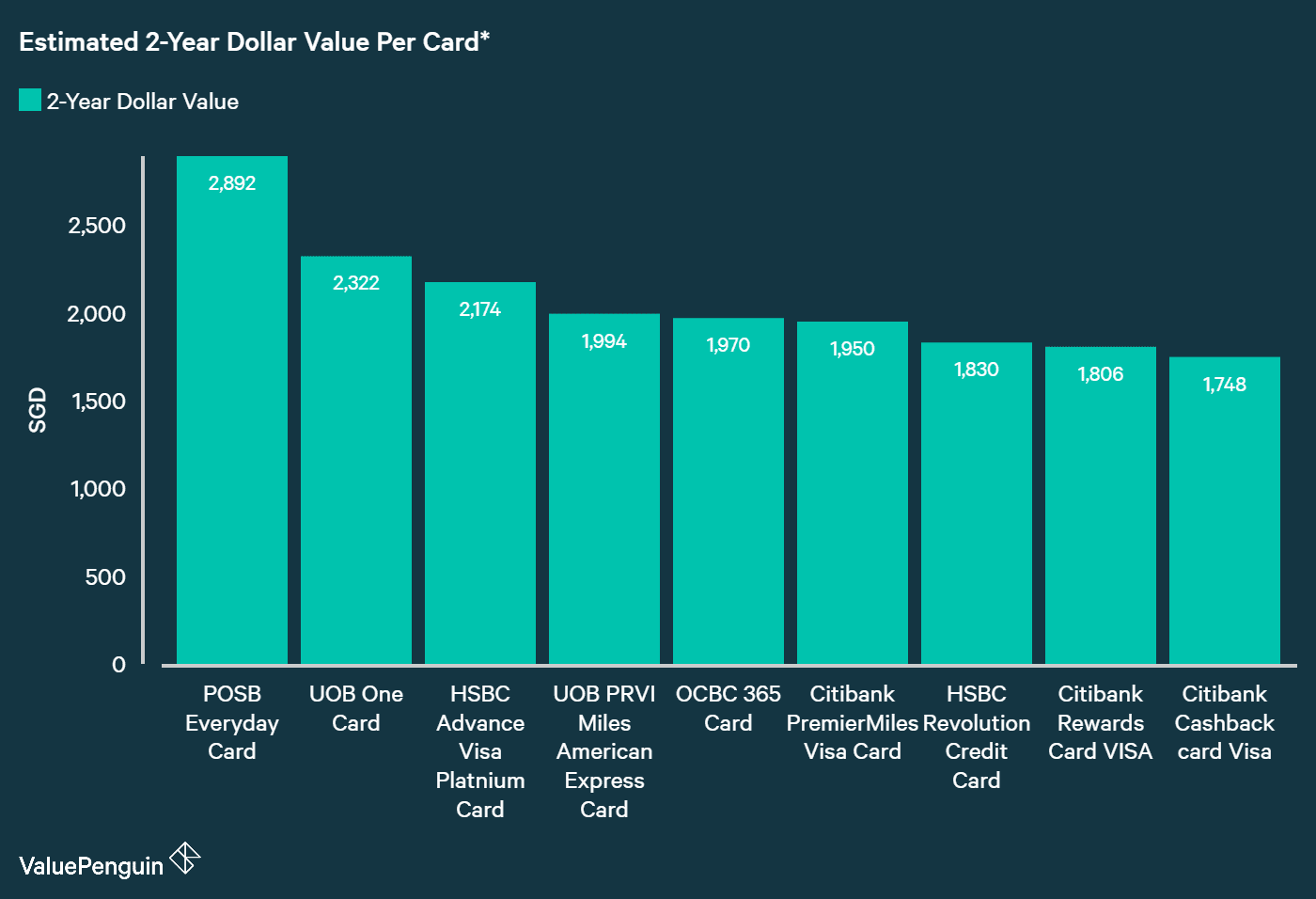 How To Find The Best Rewards Credit Card
To help you best evaluate which card is best for you, we have prepared a list of things to consider. Every person has unique needs and circumstances to which different cards may best cater. Use this framework to guide your evaluation process for any credit card offers you come across to help you assess how each card might fit into your personal spending decisions.
Your spending habits
While most consumers shopping for a rewards credit card just want to find out "What is the best rewards card?", the answer unfortunately depends on many different factors. Which rewards card will be the best for you will depend entirely on your personal spending, travel and credit habits. Taking a moment to consider your personal preferences before searching for a card will go a long way in helping you find the best deal.
Do You Keep A Balance On Your Credit Card?: In exchange for giving you bonuses and rewards, rewards credit cards always charge an extremely high interest rates around 25%. If you're unable to pay off your monthly charges in entirety, additional interest wil easily exceed what you earn in rewards. Therefore, rewards card are only beneficial for consumers who pay off their credit card bills on time on a monthly basis. If you are having difficulty in doing this, you should consider getting a low interest credit card or sticking to using cash. You're much better off reducing your interest payments than trying to get few percentage points in rewards.
How Do You Use Your Rewards?: For you to benefit from rewards cards, you actually have to use them. People tend to rack up miles and points that are never used. Even worse, many miles and reward points expire within a certain time frame. For those consumers these rewards might as well be worth nothing. Since some rewards expire, you might want to consider whether you like save up towards one big redemption or want to be redeem rewards as frequently as possible.
Also, take inventory of what kind of rewards you actually will be likely to use. Do you travel frequently, and would like to get free air tickets? Or would you rather receive  cashback for daily purchases? 
Lastly, you should consider how much you value flexibility. While cashback rewards are often immediately awarded, redeeming miles often take weeks of preparation because of processing time, and it may be more difficult to earn a free trip than you would like.
How Much Money Can You Spend?: Cards with the highest rewards rates often come with a high annual fee and minimum spend requirements. With many no-fee rewards credit card options available, the decision to pay an annual fee will depend on the amount you will spend on the card. As a rule of thumb, you should plan to spend at least S$500 a month per card for a fee-based rewards card to be viable. 
Understand How Each Card Is Different
In examining the different rewards credit cards, we looked at different factors that should influence your decision. Understanding all these different aspects can help you figure out just how good a card really is.
How Do the Rewards Work?: While most cards use the same set of terms (points, miles, cash back), the ways these rewards work will vary significantly. Some rewards can be applied as statement credits, as cashback, as reward poitns or as miles. Some cards will even allow for conversion between rewards points and miles. While cashback and statement credits are two best options for most people, miles can be highly valuable for those who redeem them for long-haul flights on business class or better. Some cards also allow you to transfer your rewards to other loyalty programs giving you another way to use what you've earned.
Rewards Rate: If your rewards card is going to be your primary card then the rewards rate for general spending is very important. For everyday spending you can expect to earn up to 5% of what you spend as rewards. As a rule of thumb, the more flexible the type of reward you get, the lower the rewards rate you can expect. Otherwise, you could pick a few cards that collectively offer high award rates on most of your expenditures.
Welcome & Renewal Bonuses Matter: The promotions offered to new card holders and renewal bonuses are major contribtutors of the value you can get from rewards cards. Most of these bonuses require you to either make a purchase on the card or spend a certain amount within a set time limit. Because the value of welcome bonuses and renewal bonuses can range from S$50 - S$500, you should make sure to fulfill the qualifications. 
*ValuePenguin calculates the dollar value of rewards based on S$2,000 of monthly spending. We sum the value of points, miles and cashback in dollar terms and subtract the annual fee over a 24-month period. The estimates here are ValuePenguin's alone, and have not been reviewed, approved or otherwise endorsed by the credit card issuer.
Comments and Questions